Eight Great Danes were found living in a mini van in western Minnesota and it was found later that there was one other on the loose. Two weeks later the 9th Great Dane made his way into our hearts.
Our rescue has taken in so many dogs over the last several years, and some of our fosters have taken 15-20 Great Danes into their home in the short years they've fostered with us. They came to us in all different scenarios, some appearing malnourished, some with behavioral concerns, and some whose families just could no longer care for them, but this by far was the worst-case scenario that no one could prepare us for.
In May of 2022 my experience in rescue and fostering changed forever.

Stephanie Hyser, Intake Coordinator
On May 25th, Stephanie, our Intake Coordinator received a phone call from Animal Control in Western Minnesota indicating they had a severe neglect case they had taken in stemming from a 911 call.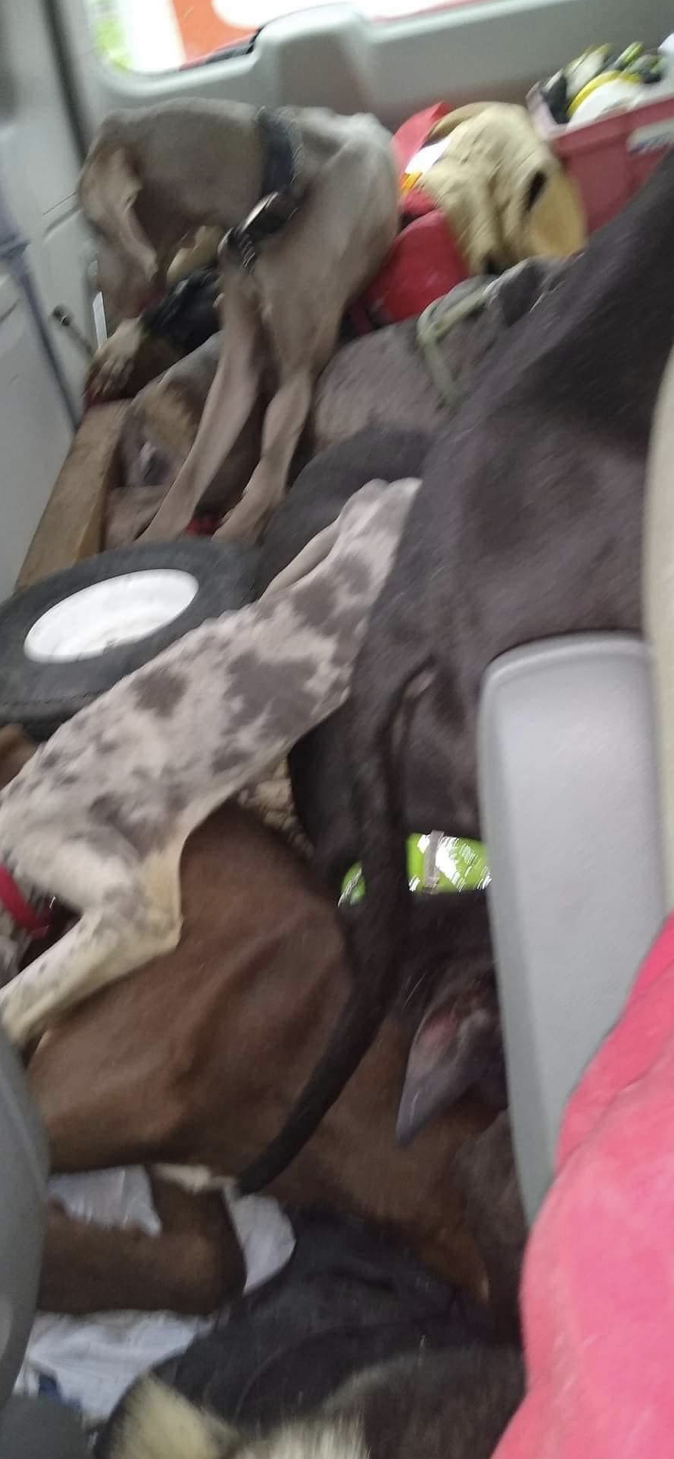 They had just taken in 8 dogs who were being kept in a mini-van; 7 Danes and a husky. She mentioned that there was a 9th dog/ 8th dane puppy that was out there but ran away in fear. They had not been able to locate it.
She was in dire need of help as being a small town they didn't have enough kennels for these dogs and they were in immediate need of vetting. They were in rough shape.
Adrenaline hit, Stephanie called our rescue president to see what we could do here and what our game plan would be.
Kelly, trusted and experienced foster, was on the way home from work when she got the call from GDROMN President, Karla. They discussed that there was a dire situation in Montevideo and to pinball ideas of how we could potentially get some of the dogs that week. Kelly and her husband, Alex knew that waiting any time at all was not an acceptable option and decided to make the trip that night. Sam and Cody, another trusted foster home also stepped up to make the trip and bring two of the puppies home.
At this point we had a plan, Kelly and Alex would go grab 5 dogs, Sam and Cody would grab 2 dogs. Intake Coordinator Stephanie along with volunteer Nicole, would plan to meet at Kelly and Alex's home to assess the dogs and take them into foster homes.
Kelly and Alex scrambled around their home, grabbed 5 collars/leashes/treats and prepped their home and vehicle as much as possible for an onslaught of danes. They started the 2.5 hour trip to the kennel and prepped for all potential possibilities of what they would encounter upon arrival.
They got to the kennel and the staff came to the door teary-eyed and expressing endless gratitude for being able to take on these dogs.
She brought us back to the kennel where the dogs were and it's a sight that still takes my breath away.

Kelly, GDROMN Foster
Mercedes and Lexus (the two mama's of the group) were sharing a kennel, both barking at us through the kennel and friendly when we wanted to pet them.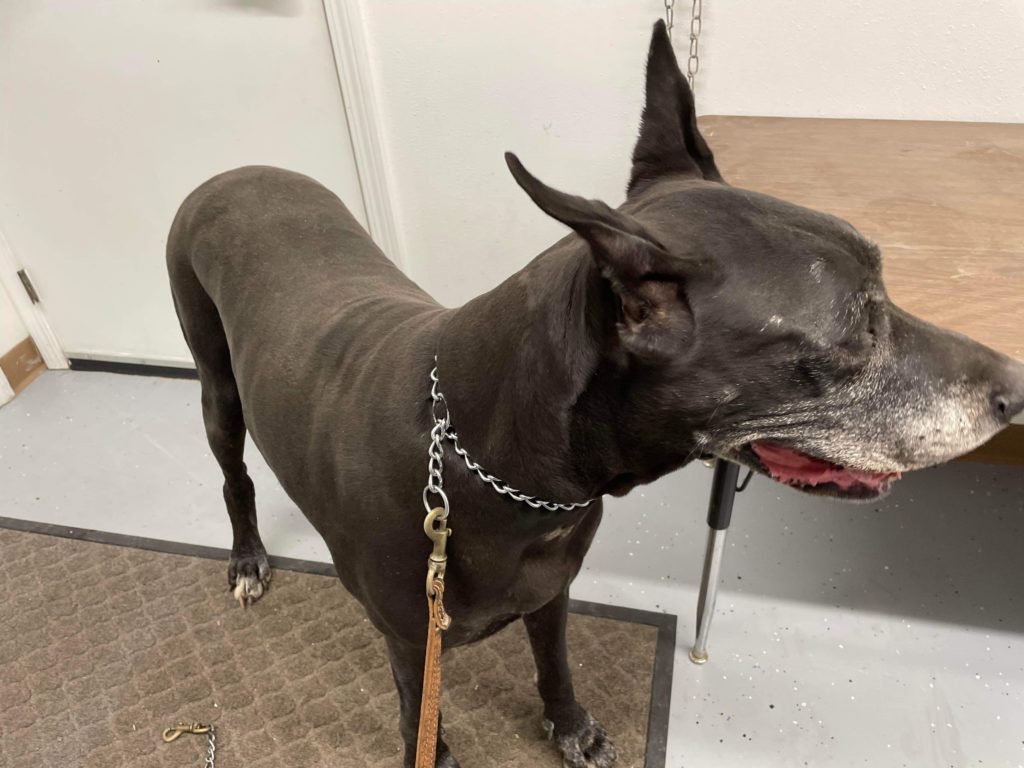 Bennie and Lincoln were also sharing a kennel, Bennie was quiet while Lincoln was also participating in barking. Bug was curled in a ball, unresponsive to the stimuli or to Kelly's prompts.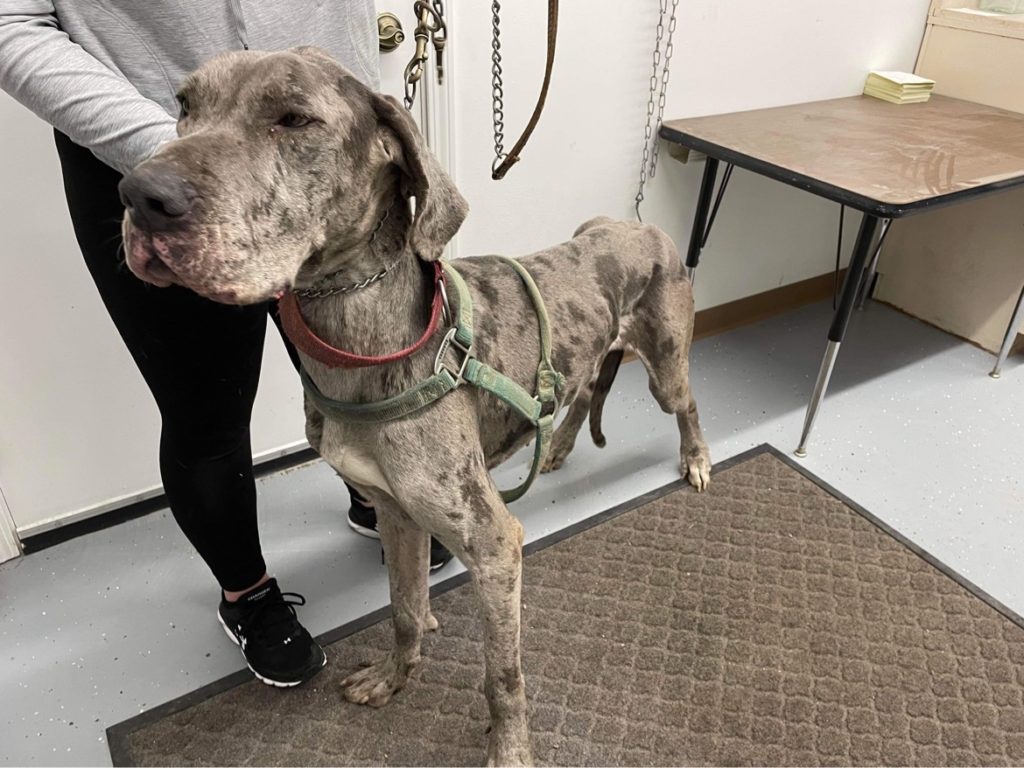 Kelly and Alex started by trying to get Bug out as she seemed the most nervous. Even after opening the kennel, Bug didn't move. Kneeling down, speaking quietly, Kelly leashed Bug and tried to encourage her to stand independently, but again she wouldn't budge.
Without spooking her too much, Kelly had to pick her up and place her on her feet to wait until the rest of the dogs were ready to leave. Bug stood there, tail tucked, confused, and trying to find an escape route.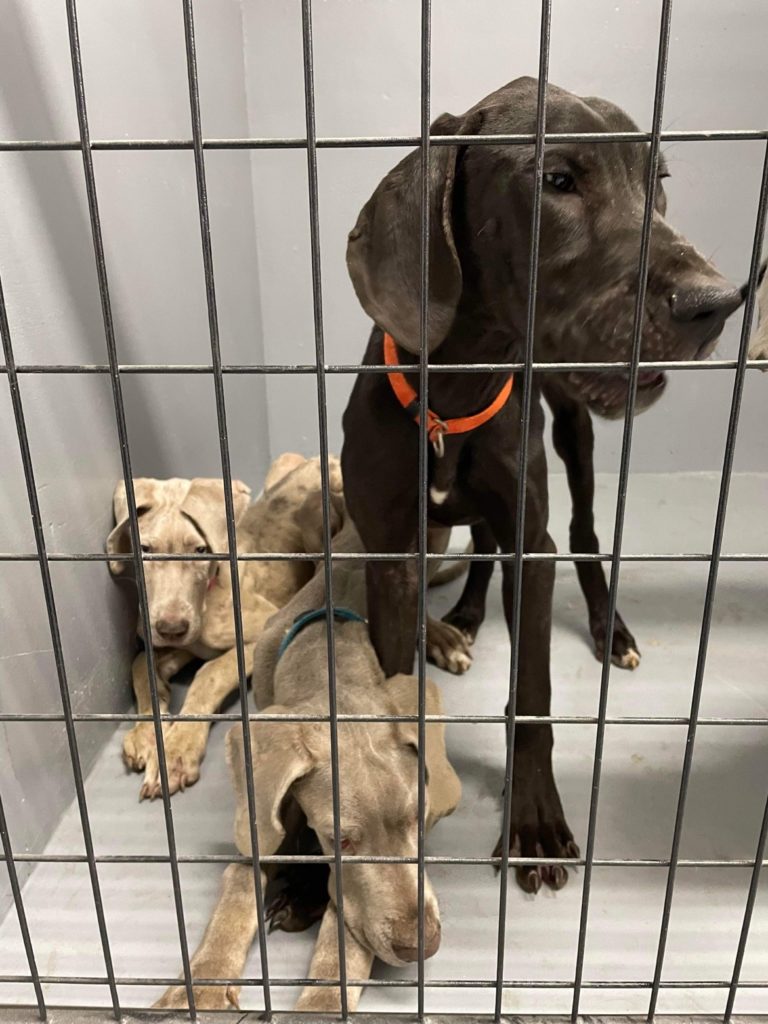 The next two addressed were Lincoln and Bentley, aka Bennie. Bennie was clearly the most emaciated dog out of them all, seeing every possible rib, having difficulty standing, and eagerly smelling the air for any possibility of food. Lincoln wasn't too far away from looking like Bennie, still seeing most ribs and like Bennie, trying to see where any scrap of food could possibly be. Kelly and Alex got these two safely leashed before opening the kennel entirely.
They immediately went towards the shelves on the wall, sniffing out food and treats, licking at the bowls, and scouring the area to find any way of survival. Kelly stood by with Bennie, Lincoln, and Bug while her husband tackled the task of leashing the final two.
Mercedes and Lexus were clearly the most cared for out of the crew. Mercedes was friendly, eager for pets, and very well filled out. Lexus was more shy, but was taking the lead of Mercedes to trust the process with them as strangers.
Sam and Cody had arrived and were able to take in Ash, the lilac emaciated dane puppy, and Lambo our big but skinny boy. They started on their adventure home and made it safely without attempting bath right away because of the growls and fear these boys had.
At this point, all of Kelly and Alex's group of pups were leashed and were ready to take the trip to the car.
This by far is always the scariest part. A leash could slip, they could be spooked, the car door may not shut fast enough, they could turn around and decide they no longer want to go along and could present with behavioral concerns.
Luckily, they all took the lead of one another and jumped into the vehicle, shutting the door with success.
Kelly and Alex hopped in the front seats and started making their way back to their house for the next step in the journey. As the initial adrenaline drained, the reality hit.
These dogs were hungry. Mercedes was well loved and looking for more love. Lexus was nervous in the chaos of the day. Lincoln was skinny and ready to snuggle. Bennie was starving and longing to live. Bug was terrified.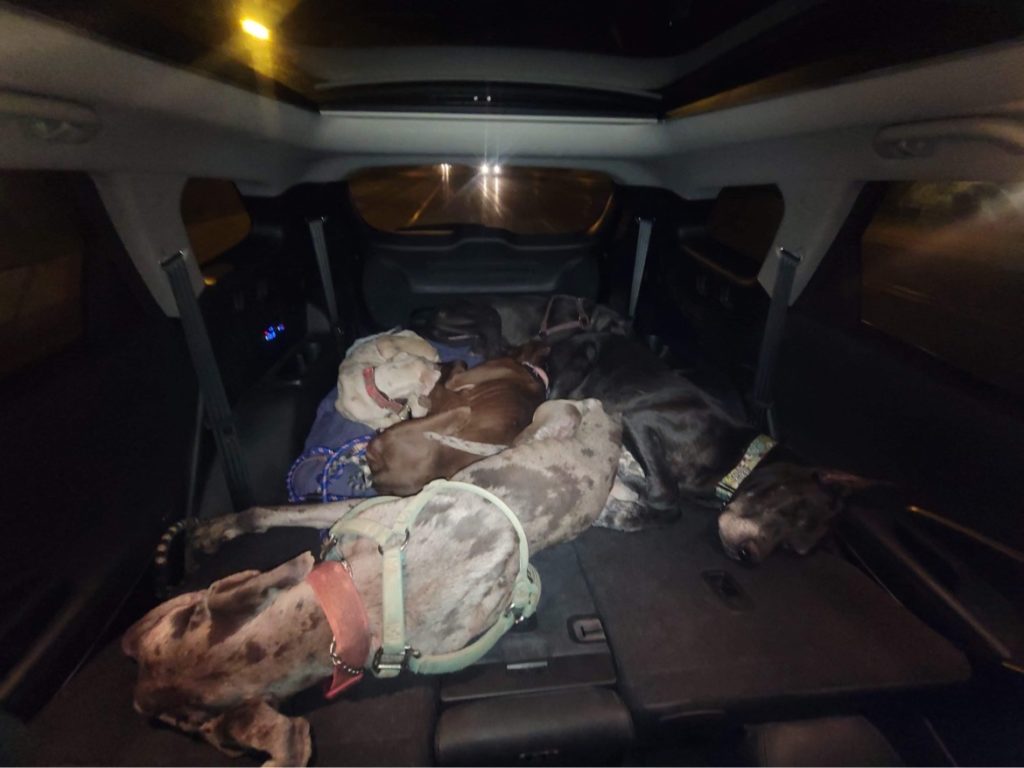 The questions started rolling in: How did they survive this long? How are we going to support them? Will there be long-term physical damage? Will they ever trust us? Will we have enough willing fosters to take on these danes? How are we going to get them out of our car safely? And the most harrowing question of them all, will all of them survive?
Kelly allowed herself a quick cry and then they were off planning again. Our rescue is one that pulls together in quite literally every situation. While they were driving, there was one volunteer gathering supplies at the rescue's storage closet and the other was getting a pool/bath area set up at our home.
At 11 pm that night Kelly and Alex made it home to where our Intake Coordinator, Stephanie along with volunteer Nicole, were waiting to welcome these dogs into rescue.
Stephanie has been a part of many intakes and this one instantly brought her to tears. The state of these dogs was worse than we ever could have imagined. Not only were they terrified, they were covered in urine and feces and were basically walking skeletons.
Our hearts sank for them. Even though they were shut down and terrified they had to bathe these dogs before they could go into a home. They needed to know what it would be like to be clean and warm and safe.
Everyone somehow managed to bathe each of these dogs, even after growls, snarls, and attempts to hide.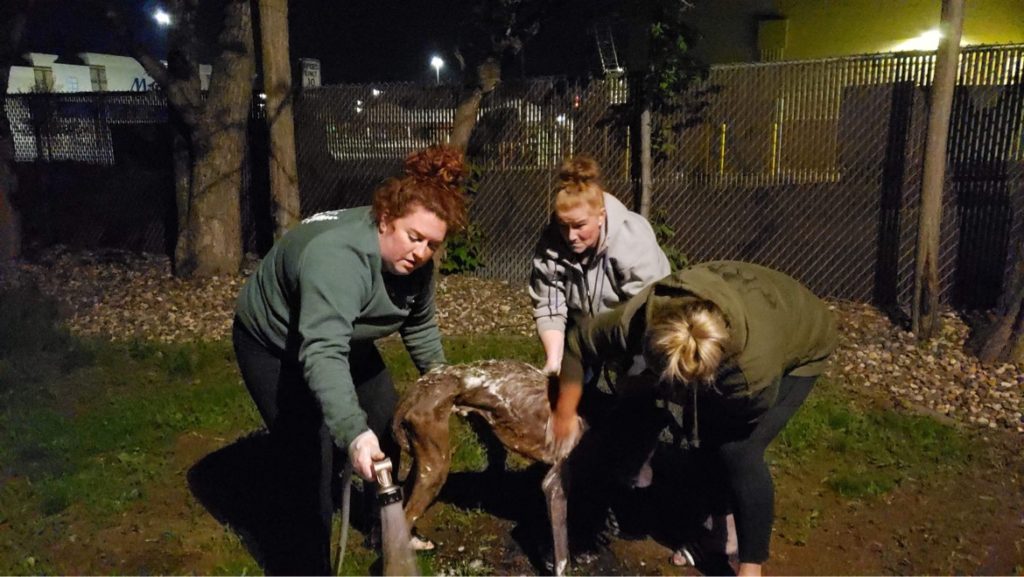 Stephanie has a special place in her heart for the unique behavioral cases we get in so she volunteered to take one of the puppies that was described to be the most "shut down". She hid in the back of the kennel while the others were more curious. This was Bug. She went with Stephanie that night, and Lincoln went with Nicole, his foster.
Kelly and Alex had the remaining three in their care for the night. Mercedes and Lexus were nervous and settled into their living room floor quietly for the night. Bennie, however, continued to seek out food to the point that he pawed and bit through a bag of food to get at the kibble.
After feeding each of them, we quarantined them to the living room for a warm place to rest. By the end of the night, we were all exhausted and relieved knowing that all 7 dogs were saved, but worried about the other puppy who fled.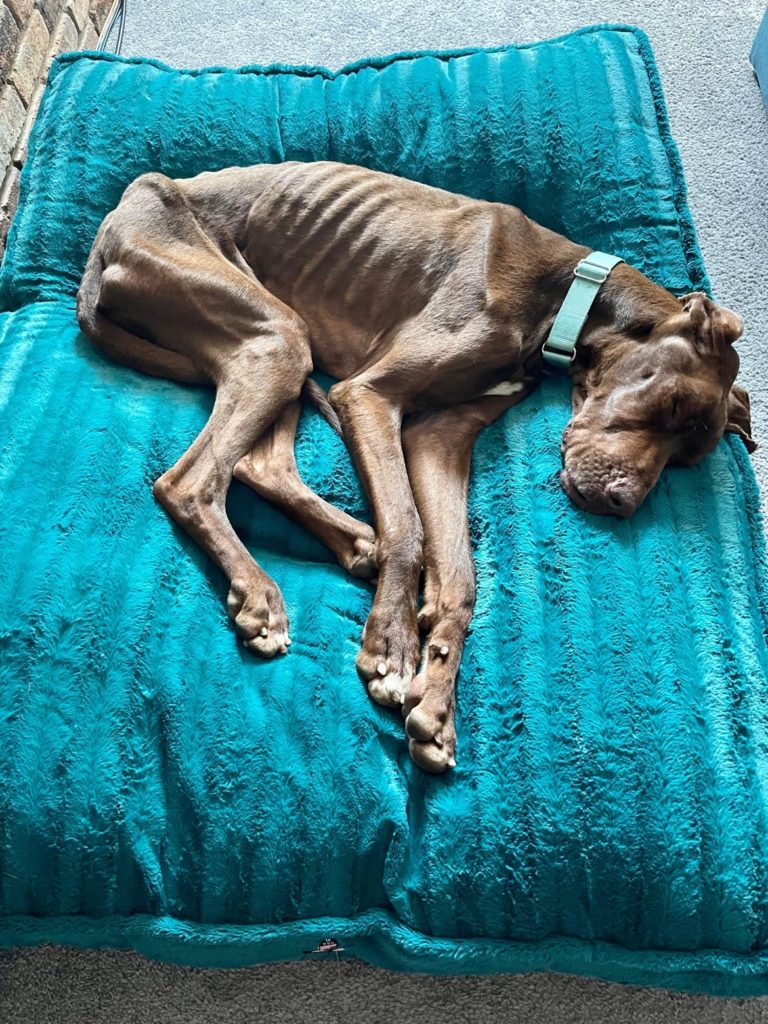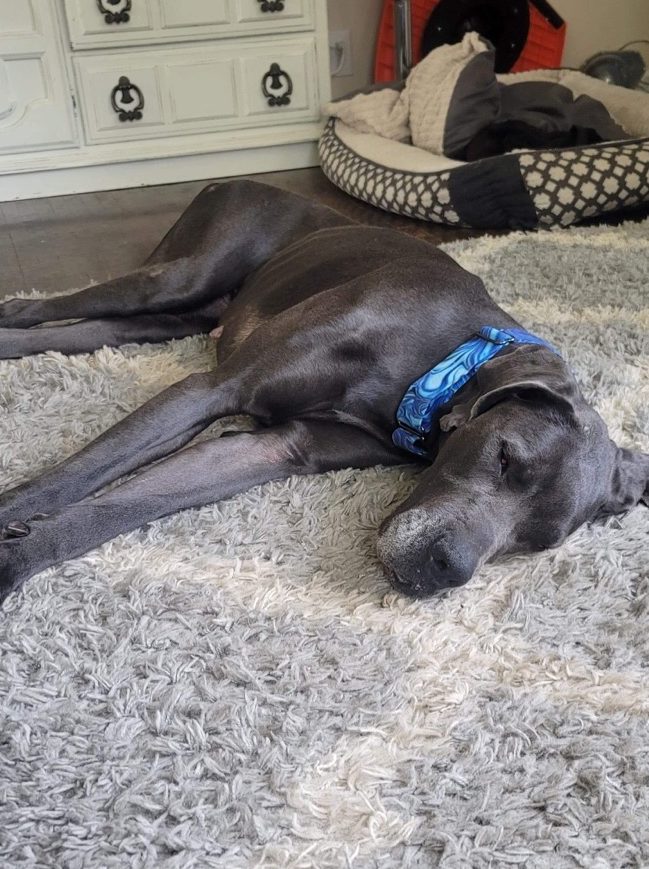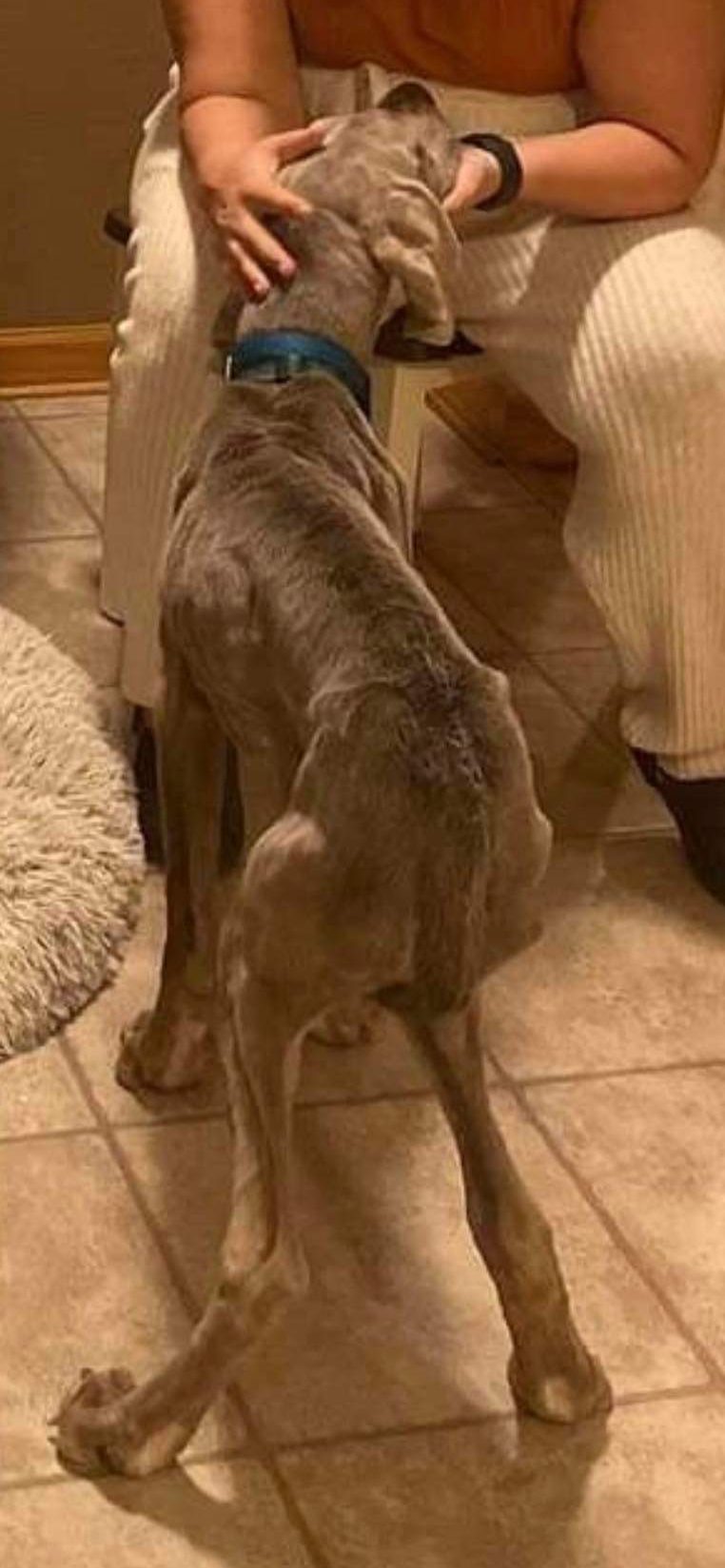 Thanks to Great Dane Rescue of MN and our volunteers, these dogs are alive and figuring out their place in life. While GRDOMN didn't have a secure plan of what was going to happen to the dogs or how their needs would be paid for, GDROMN took them on without question. That's why I love this organization. When they are presented with a challenge or a seemingly impossible scenario, we step up knowing that somehow and some way we will make things work. Even as we continue to foster, these 9 are forever branded in my soul and continue to awe me in the resiliency of Great Danes and our organization that I am proud to be apart of.

Kelly, GDROMN Foster
Once everything sunk in, we needed to figure out what to do with Mercedes, Lexus, and Bennie. As Kelly and Alex has planned to take a break from fostering. After further discussion we decided to have them keep fostering Lexus and Mercedes until other foster and adoption options presented themselves.
We knew that Bennie needed immediate medical attention as we were concerned about his eye and his weight. When we say he was a walking skeleton, he could barely stand he was so weak.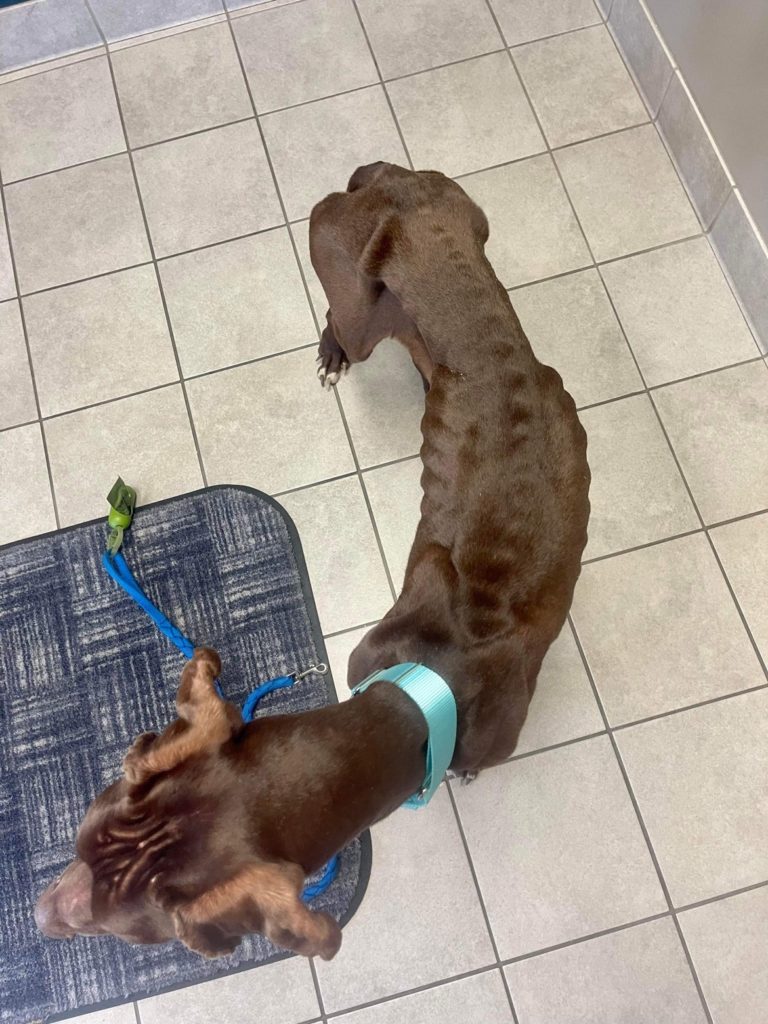 Given his need for frequent vetting, Stephanie also took Bennie in the next day. He needed many rounds of eye medication, weight checks, antibiotics for feet infections, etc.
The next morning, the puppy who got away was found, so we were contacted and our team set up another volunteer to urgently go get the little pup. When she was found, she was barely surviving. A puppy that seemed to be maybe 3-4 months old, but weighed what a 9 week old should weigh. We named her Rosie, she was scared, and covered in urine stains and feces. Stephanie welcomed her into her home for a few days and then her mother took her in to foster for the next handful of months.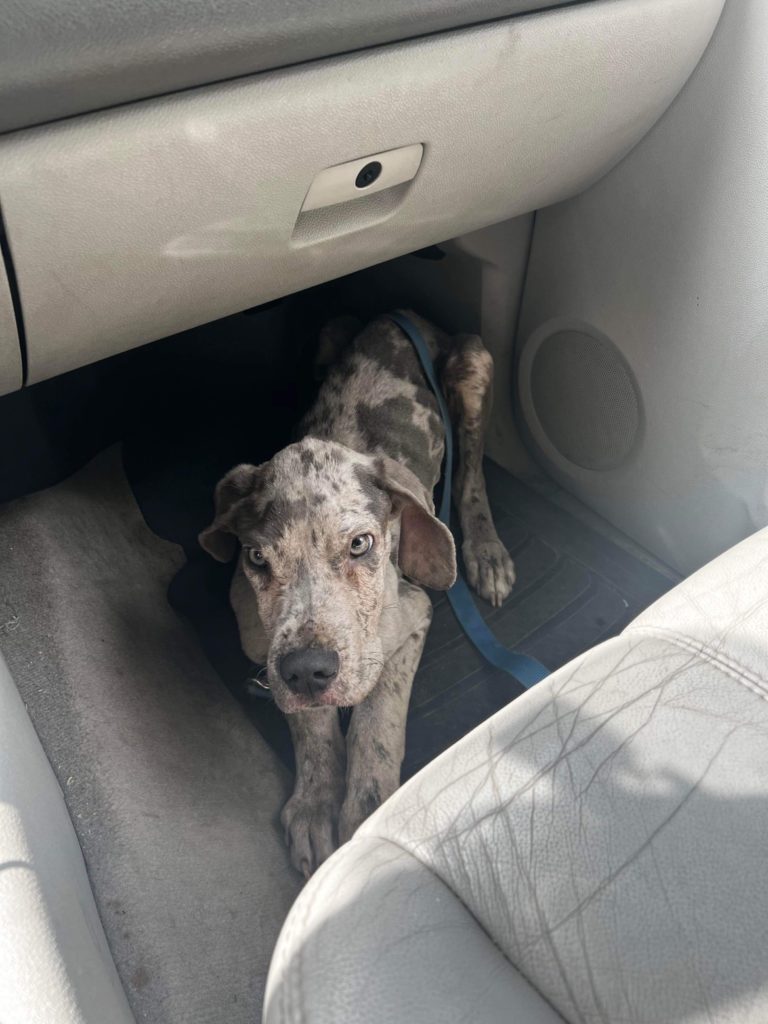 Just as our emotions are winding down from the chaos, we see on Facebook that there is another dane in the same town, loose. Same type of collar on, same off color (lilac), same look and stature, and emaciated. The entire town jumped on board to try and help this dog along with our rescue and rescue president who was trying to pin sighting on a map to look for patterns.
2 weeks he was running. 2 weeks.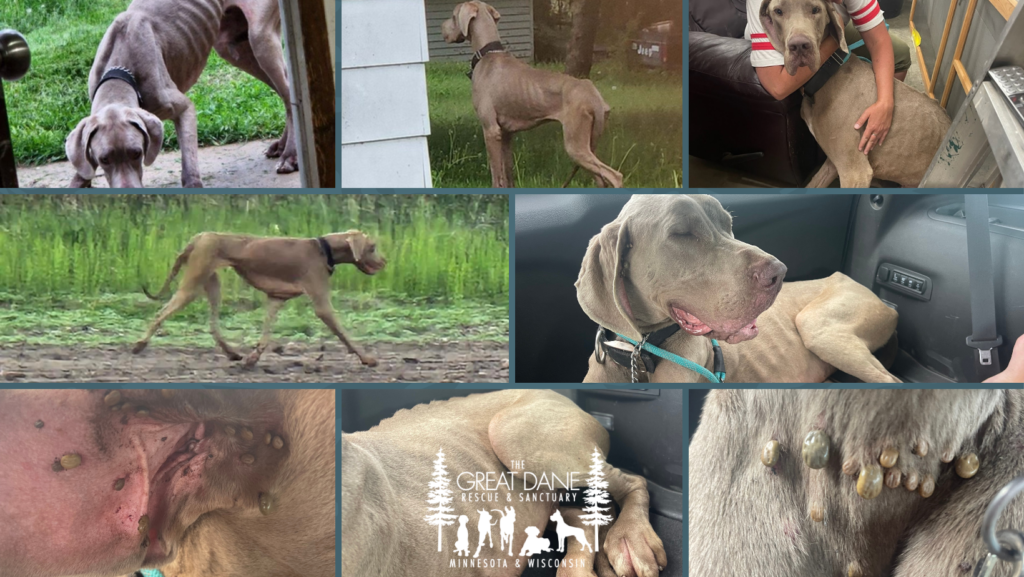 June 13th, Grayson was finally captured with the help of Big Stone Animal Rescue. He was sweet as can be, but he was full, and we mean FULL of woodticks. Kristin with Big Stone pulled off over 300 ticks from this boy. His paw pads were swollen and torn up, and he was emaciated like the rest.
Once things settled a bit, came the weeks of hard work for the emaciated puppies and boys. These dogs were terrified of the world, needed meals every two hours so as to avoid them getting "re-feeding syndrome" which can kill emaciated dogs. They needed love and to know that they would always have food and water available to them.
They would eat their own feces, which their vets suspected was because that is all they had available to them when they were living in the minivan.
Fast forward 6 months. Stephanie foster failed the puppy, known as Bug. She is still incredibly fearful of things in the real world. She is a confident goofball at home but completely pancakes to the ground in public. She is sweet as can be but is still learning that the world can be a safe and fun place. She is currently attending classes for Shy and Fearful dogs with her sister Rosie.
Rosie is still trying to figure out her world, she leans on her big dane brother for confidence and seeks love and attention from those closest to her. She was adopted by our rescue President, Karla.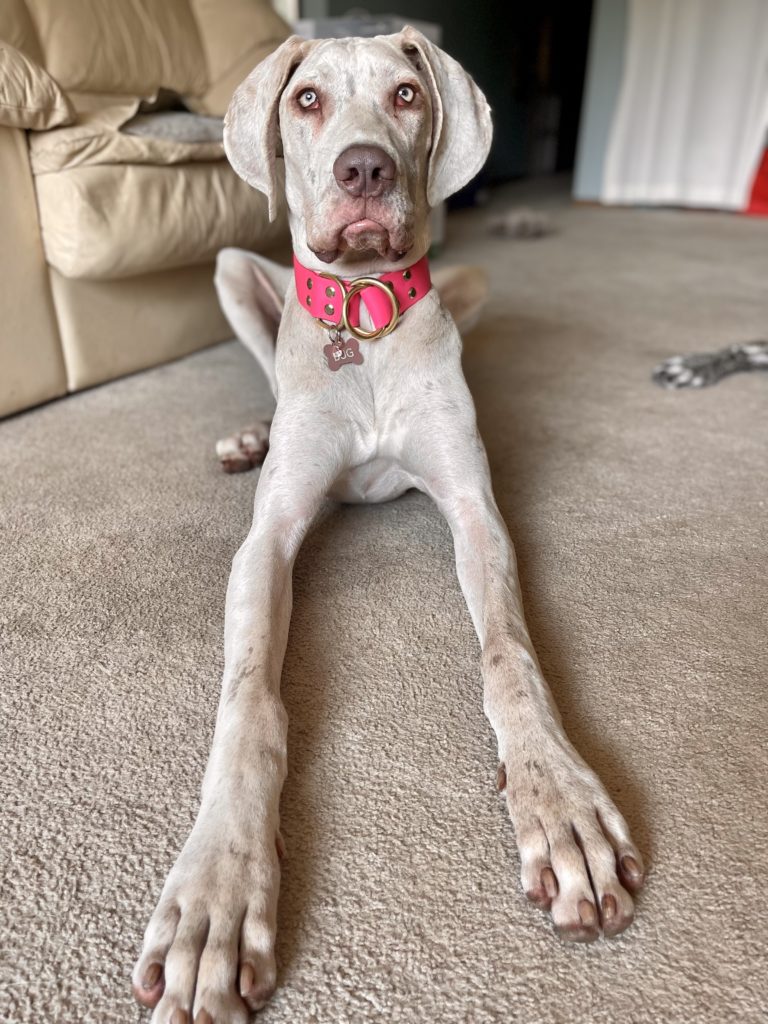 All of these dogs have come so far!! It's been 6 months now, almost to date. Everyone is happy, healthy, and loved.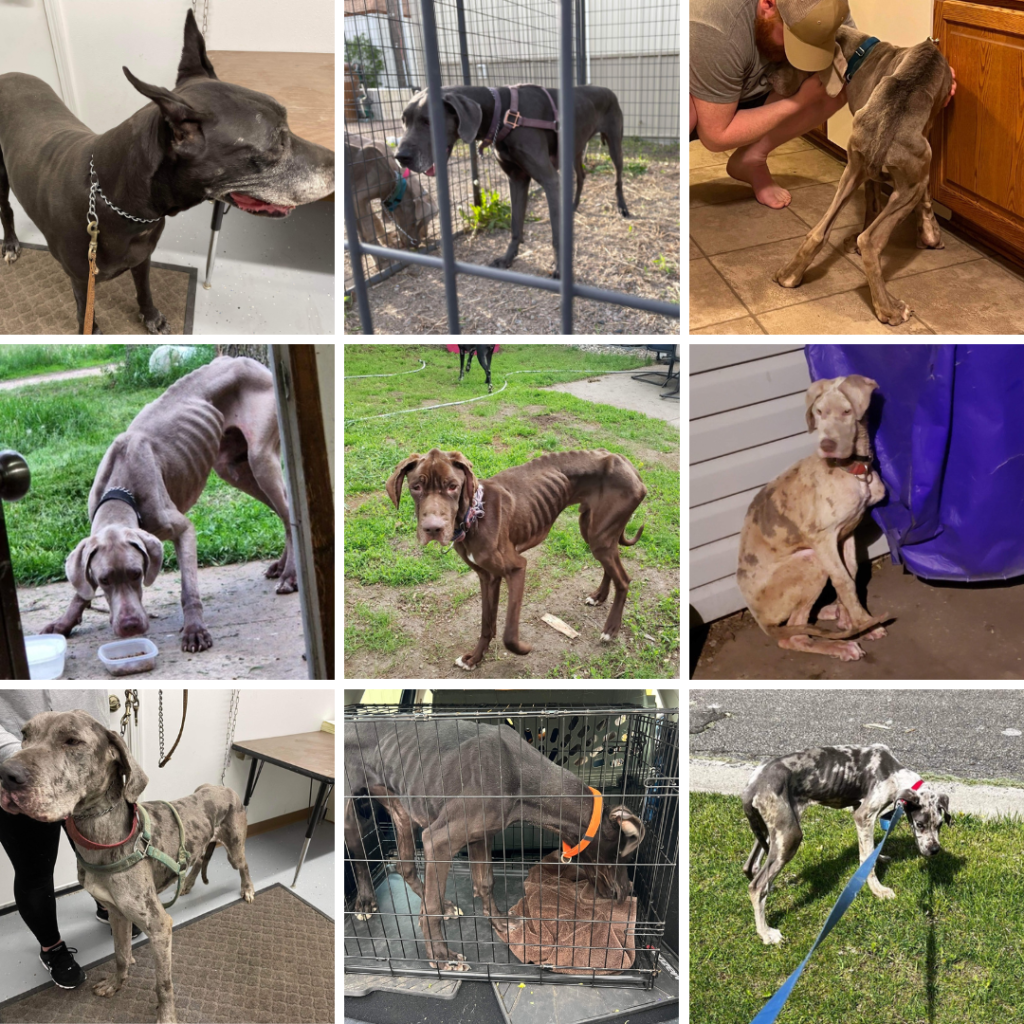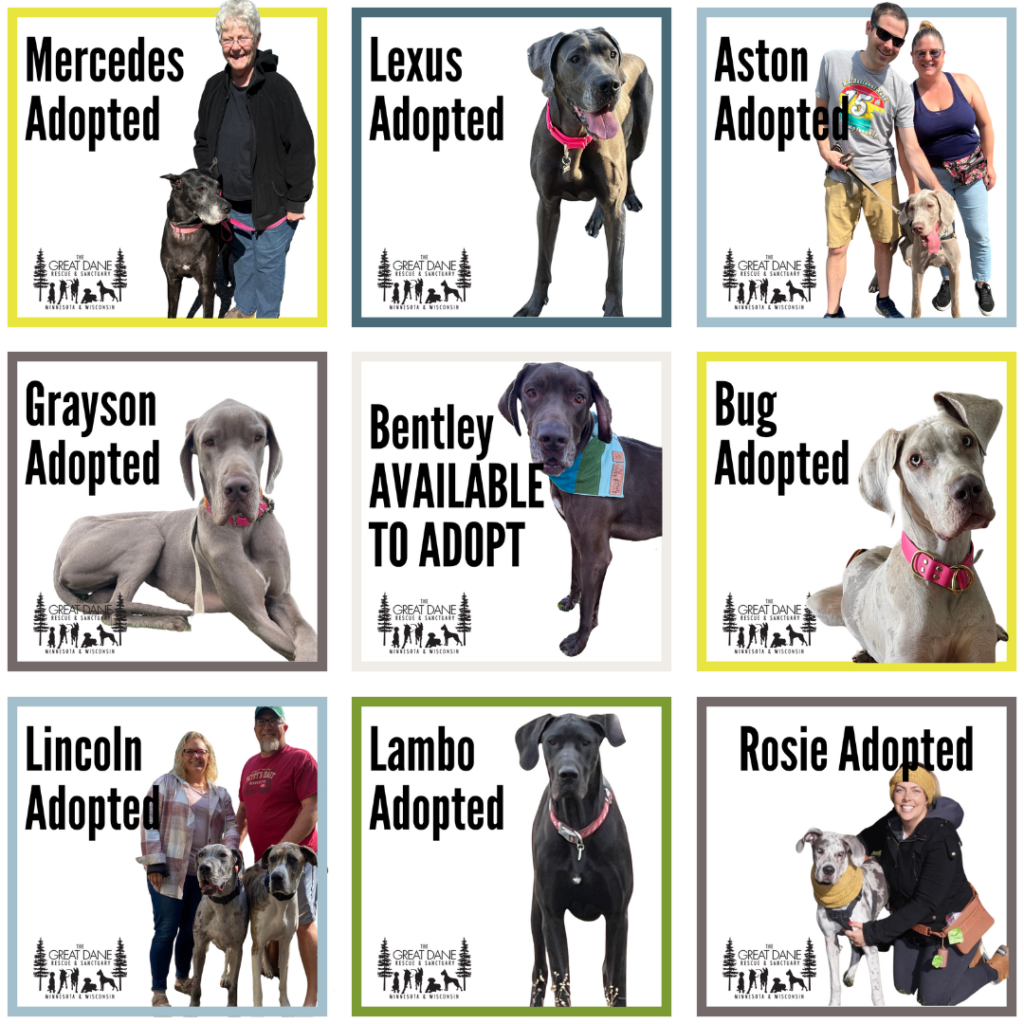 Grayson was adopted by his foster home, Katie, our former Treasurer and Board Member.
Lexus was adopted the quickest as she was the most well-rounded though shy.
Mercedes made her way to being adopted into a retirement home in WI.
Lincoln found his adoptive home with a friend of his foster home.
Ash/Aston was adopted to a couple that are first-time dane owners and are loving his personality.
Lambo was adopted into another home with a dane and they are best buddies.
Bennie– he is available for adoption!! He's happy, he's healthy, and so much fun.
If you hadn't noticed, we named these guys after luxury cars, after living a life in a mini van we wanted to show them what the life of luxury would entail. Most names were kept, a few were changed!
I am so thankful to have played a vital role in the rescuing of these dogs. They will forever have a special place in my heart and I will never forget any of them.

Stephanie, Intake Coordinator