It's that time of year! In Minnesota anyways. Winter, bitter cold, wet paws, dry skin, and stupid energy cooped up inside. So many Great Dane owners want to get their Danes outside but want to keep them warm and finding winter gear for your Great Dane can be tough!
Let us make that easier for you! We've already done the research and have 5 items that I recommend all Great Dane and other dog owners have to survive winter.
To get a jump start, feel free to check out our Amazon Store!
Winter Jacket
Having a winter jacket for your dog is a concept that many can't seem to grasp. Dogs are dogs. They're fine. They've been surviving the cold for years. I've heard it all and that's fine, but watching my Great Dane shivering outside, I decided to be "that dog mom" and get him a damn jacket.
Finding a jacket that fits the size of a Great Dane is tough. These dogs are stalky, large chested, have long backs, and are overall awkward!
Thankfully, I've been in the Great Dane community for a while so I've been able to see what other owners are using for winter gear, what I like, what I don't like, what works, what doesn't work, etc.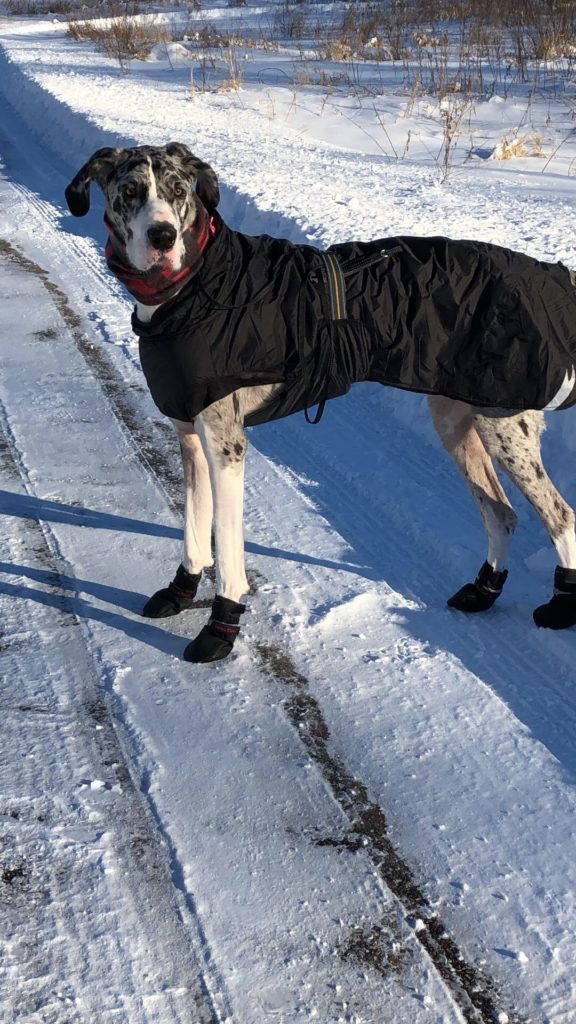 Let me introduce you to our favorite- the Hurrta Summit Parka! The inside lining is a super warm fleece material that anyone would be lucky to be cozied up in! It is one of few jackets that also has an underside to keep their bellies warm. It has an adjustable strap to fit different chest sizes which is also a must! We purchased the size 80 (32″) of this winter jacket as my Great Dane is pretty thin, the next size is a 90 (35″) that would be sure to fit the larger Great Danes, Irish Wolfhounds, and Mastiffs.
Waterproof
Pleasant to wear
3M reflectors
Adjustable back length, belt and collar
Recloseable opening for harness on the back in sizes 30-90cm
Protects the chest and key muscle groups
Recloseable attachment loops for back legs in large sizes 65-90cm
Machine washable
Outside of the Hurrta gear, there are so many other Etsy shops and custom orders available across the internet. But, finding quality handmade items that are worth the fortune that some of these coats cost, is hard to find.
Not to mention that no one really wants to spend money on something they are unsure about!
Let me share another favorite used by so many here in Minnesota and the midwest. Great Dane Coat Club is on Facebook, the owner there has a friend in Poland who custom makes all of these jackets and then she sells them to people here in the states. She posts all of her jackets on Facebook and they sell out within minutes!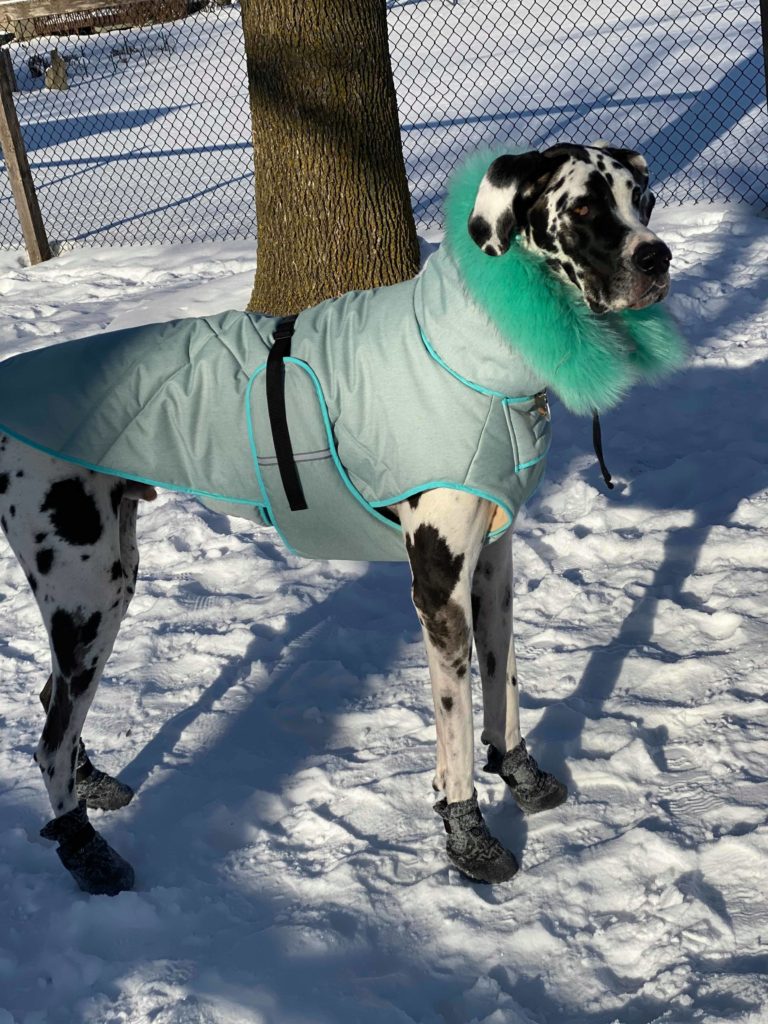 These jackets from the Great Dane Coat Club are handmade, have a plushy fleece on the inside, and the outside has different fabrics, all that are weather resistant and machine washable! The chest piece to keep the belly warm is another must have!
Waterproof
Pleasant to wear
Reflectors
Adjustable belt
Machine washable
Dog Boots
When it come to winter gear, I'm not sure what I get judged more for, my dogs jacket or his boots. I mean I get how silly they look but my poor Great Dane has the most sensitive and daintiest paws!
He can hardly stand outside in the snow for more than 60 seconds. Not only is the snow cold, but I've noticed that if he isn't wearing his boots, his paws get cut up from the ice and snow when he's out playing with his friends.
Next in line after being cut up if he doesn't have his boots on, are yeast infections in the paws! Yuck! Too much moisture in the paws isn't a good thing. Moisture can come just from the snow and ice alone, or from your dog licking at its paws from the irritation caused by the snow and ice, not to mention ice melt too.
These Ultra Paws Rugged Dog Boots are our favorites! They rarely slide off when Cash is running around with his friends, and they keep his paws completely dry and free from cuts and irritation!
These boots are dipped in a rubber to ensure for ultimate traction as well. I do notice that Cash still slips a bit on the ice with his bad hips, but overall we are super impressed with these. We get them in the XL size. I do know some danes that seem to fit in the L but I would always recommend the more room is better for full range of motion.
Some of our friends have the Cozy paws and also rave about them! These are just a fleece sock that is dipped in the same rubber bottom for traction. I was afraid that they would be more likely to get the paws wet but it sounds like they stay really dry! I like the idea of the fleece as I would think it would be a warmer option.
If you have a Great Dane with wide, or realllly big paws, then the Cozy Paws would be a better option as they are more flexible and easier to get on and off.
Snood/ Scarf
Ok, so a snood is just cute. Whether or not it has a purpose (I tell myself it keeps Cash warm, but really? Not sure) it adds style to our life. You can log into your Etsy account and give a good search of "Great Dane Snoods" and the options are endless. Some shops will even do a custom order.
I contacted one shop and even sent the fabric to her house for her to make snoods for me!
Musher's Secret
Musher's secret is almost everyone's go to when it comes to paw protection for Great Danes, or all dogs really. It's a blend of 100% pure natural waxes. Including white and yellow Beeswax, Carnauba, and Candelilla Wax, along with white & vegetable oils with vitamin E.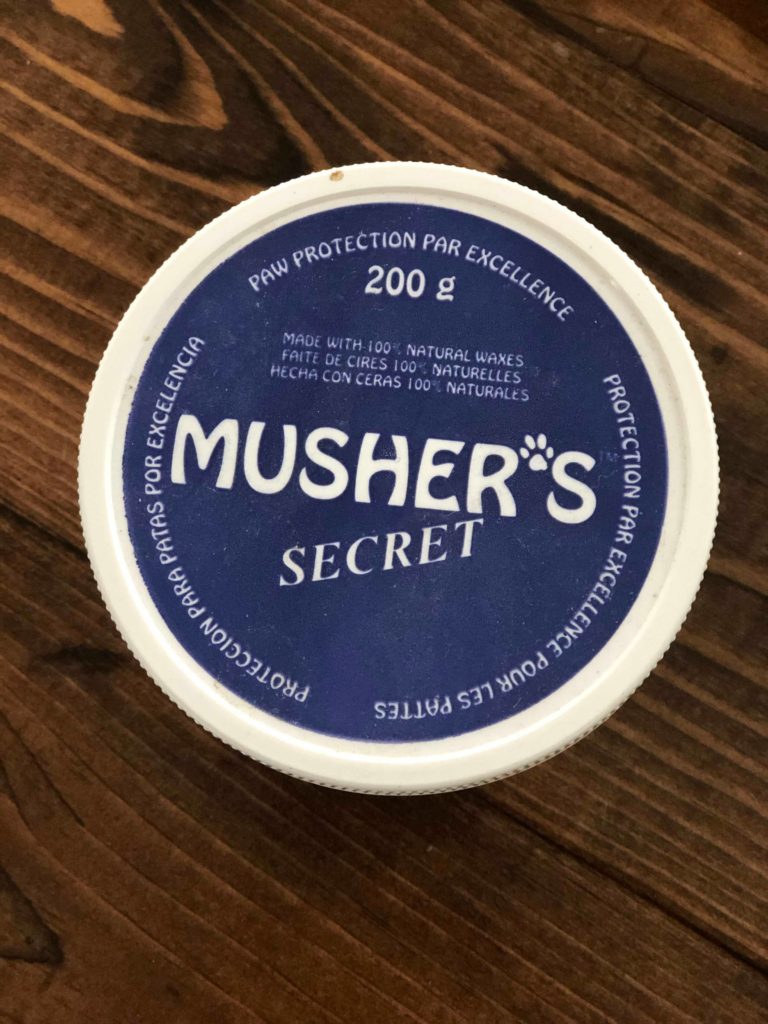 You can put this wax on your dogs paws before braving the outdoors to help protect them from the snow, ice, ice melt and tough weather conditions. Many will use this alternative to the dog boots or other winter gear. Depending on our adventure I will do one or the other!
Protects your dog from:
Salt Residue and Ice Melt
Ice build-up
Snowballing
Sand and sandburn
Hot pavement
Rough terrain
Chemicals such as pesticides, lawn fertilizers etc
Once your adventures are over, there's no doubt that your dog will still have some dry skin, cracked paw pads, and maybe some ice balls if you didn't do one of the above mentioned methods of protection.
The Natural Hound is a Minnesota based company that has a Paw Balm that heals and protects. So not only does it act similar to the Musher's Secret in that it does protect, but it also helps heal. This is what we use it for.
I rub this on Cash's paws a few times a week to keep his paws from being dry and cracked. Just like our hands and skin get so dry in the winter. Dogs paws are the same!
The best part of this, is that Cash refuses to lick it! Yay!!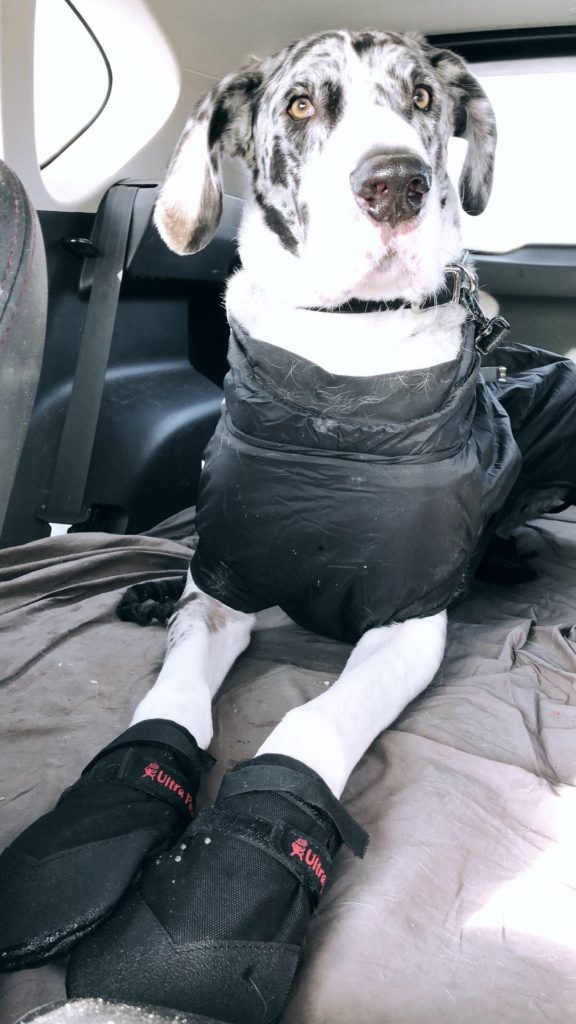 Now that you have your Winter Gear all set for your Great Dane, you can jump in the car and explore on your next adventure!
If you must live in Minnesota or the colder climates, make it as bearable as possible and do what you can to enjoy the outdoors!